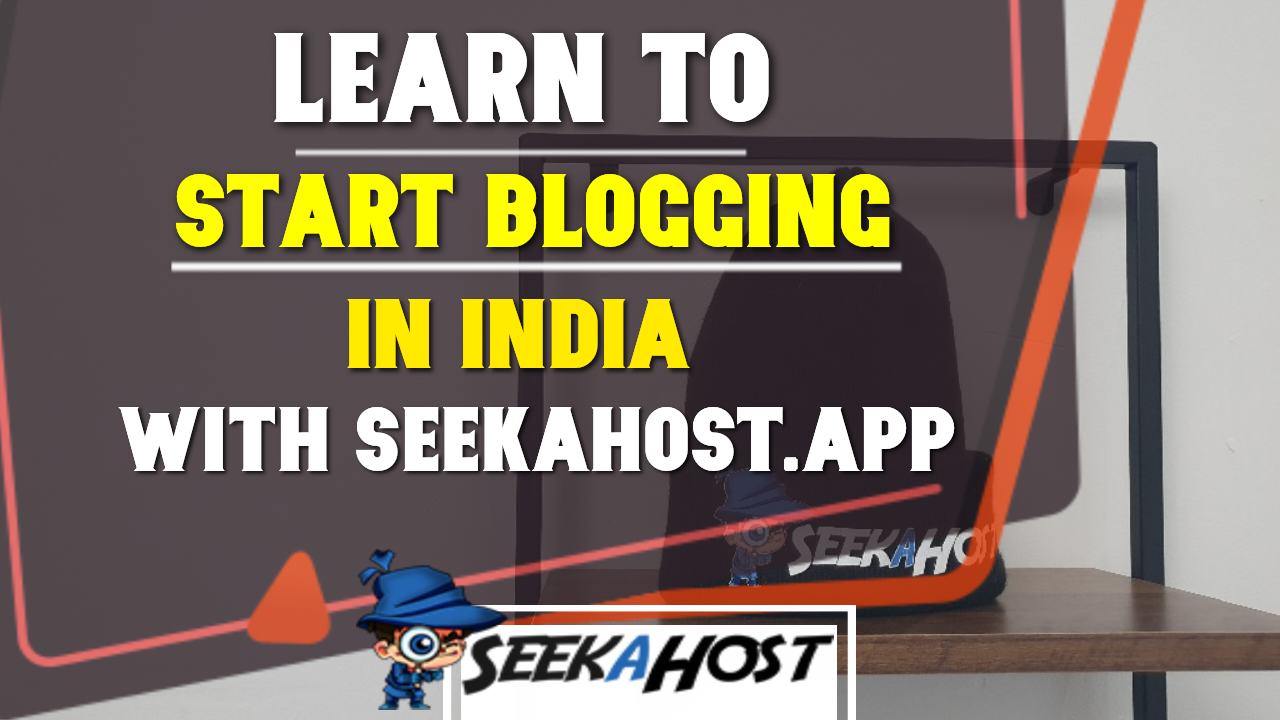 How to Start Blogging in India with SeekaHost.app and Earn Money in 2022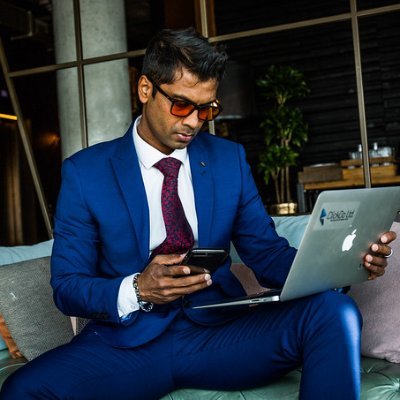 By Fernando | January 20, 2022
Blogging is very popular in the digital economy and people in India are crazy about it, making a lot of money by running one or more blogs.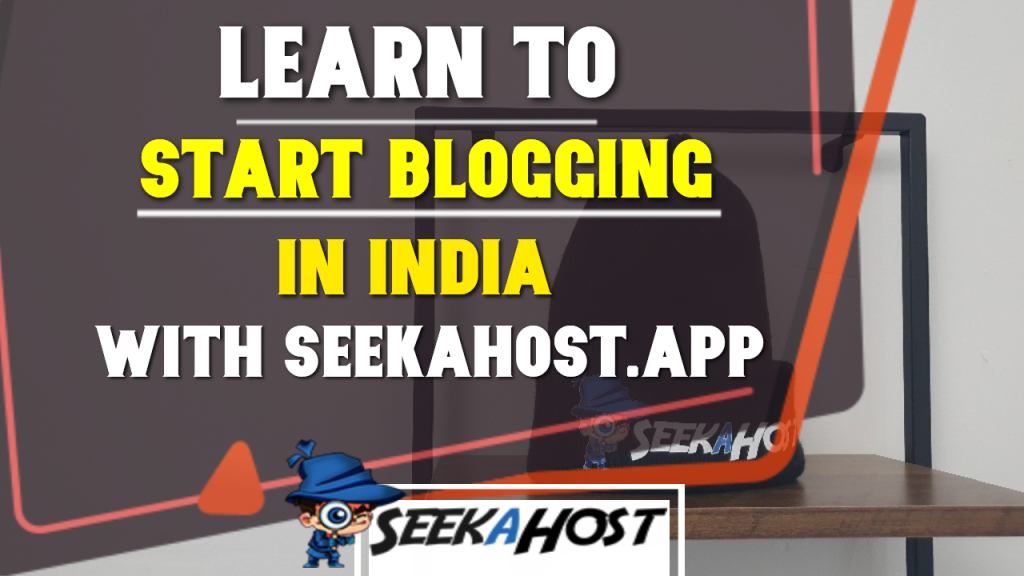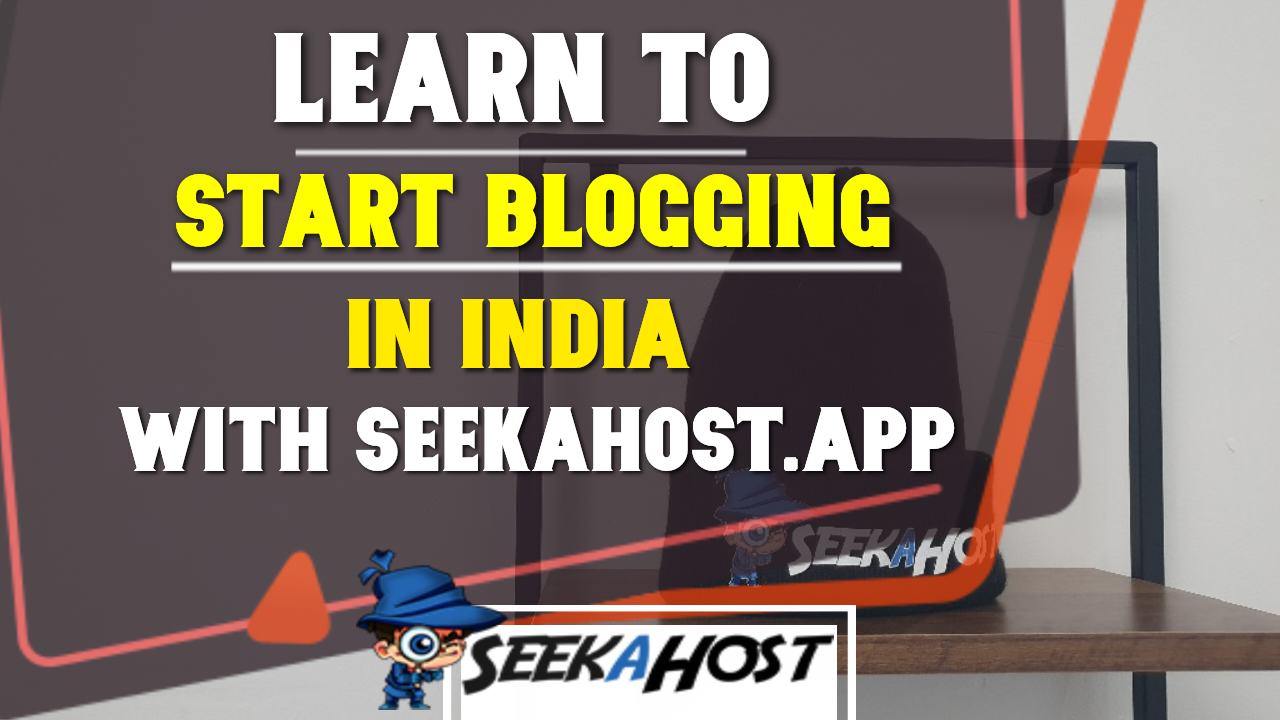 If you go through the top bloggers in India list, you can see the people who are actively blogging and earning money in India and that blogging can be a very lucrative online business or side hustle as you can see in one of my previous guides:
What is a Blogging Business and how to start doing it?
You can learn so much by reading famous Indian blogs while getting some inspiration for your own professional blogging journey with possible income generation.
After seeing the massive demand by newbies to learn to blog, I have written this extensive guide to explain each and every aspect you must know before starting a blog in India and make money blogging for beginners.
I am on a mission to help 100 million people on this planet to get online. I want to help you start a blog on WordPress stress-free without spending a fortune as I believe that everyone should have at least one virtual property and digital asset they can monetize.
At the end of this guide, you will be able to become a blogger and internet entrepreneur like me that makes money with blogging. And the best thing is there are many ways to earn from blogging that suit everyone and it's achievable once you know the process and invest the time and work.
In this guide, I refer to the seekahost.app which is the world's easiest blog setup platform with domain names and hosting services that will help any blogging beginner or advanced expert with its easy to use interface, knowledgebase and tutorials and eLearning courses around WordPress, the control panel, blogging, SEO and marketing.
You will see how easy it is to use it and why you should use it for all your online activities from learning to creating and growing your online blogging platforms.
Why Should You Start a Blog in India?
You are perhaps wondering why am I investing so much effort to teach you the steps to start a blog.
Well, it's simple – blogging changed my life!
The reason you should start a blog is that it can give you personal, professional and financial freedom. You are your own boss and you can work anytime from anywhere as long as there's an internet connection (though you can of course write offline too).
Blogging is all about expressing your thoughts, ideas and knowledge in a field you love and are passionate about via a website that is accessible through the internet. Hence its potential of reaching thousands to millions of people worldwide and it becoming a valuable digital asset, generating money and creating jobs.
But don't be mistaken that a blog is only for individuals. A blog is a powerful online platform to attract readers from around the corner too. This can be especially useful for local businesses that want to reach their local community better. Almost all websites have a blog page where they share useful information for their customers and to attract new clients and readers.
Once you learn the skills to build and manage a blog with high-quality content (usually a collection of texts, images, audio recordings and videos posted on the blog), you will be able to utilize these and the blog to do far more than just blogging.
What Blogging did for me and my Team
Most people like me start blogging part-time, but gradually make it a full-time business that eventually turns into a branded enterprise. In turn, they become digital entrepreneurs, enabling them to run several online businesses that are web-based, which offer much more flexibility.
My blogging journey started with my personal SEO blog and it led to me building my SEO and digital marketing agency ClickDo Ltd. I also set up a web hosting company called SeekaHost Ltd. and with the increasing profits that I made with blogging, content publishing on the business websites and their blogs and running paid ads on Google and Facebook, I was even able to hire staff in India.
I passed on my blogging skills to them and they too have built their own successful blogs:
Dinesh Kumar VM's Blogging site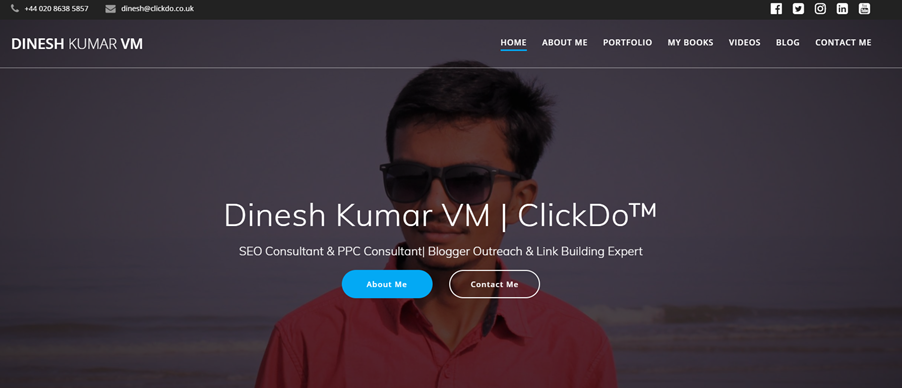 ClickDo's Senior SEO Consultant Dinesh uses his personal blog to share his skills and the services he offers, covering relevant topics and questions around SEO, digital marketing and PPC as well as guest posting and link building.
As you can see, the blog enables visitors to contact him directly and see his work portfolio. This leads to more client enquiries and conversions, increasing his income.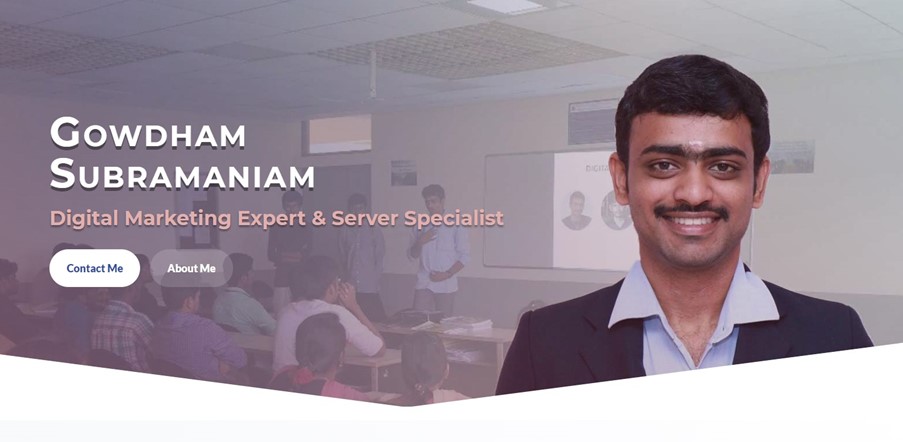 SeekaHost's Senior Server Specialist Gowdham has set up an attractive yet simple online portfolio landing page that covers everything he does, a bit about his personal and professional background and his contact details.
He shares his skills so that visitors immediately understand what they can contact him about via his contact details on the site. So you can see that an online portfolio blog can also act like a next level business card.
So if you want to start a blog like us and make money online, then here's what you need:
You need a domain name.
You need web hosting to get your domain live online.
You need a control panel to manage your domain.
You need a CMS, blogging platform or website builder to design and manage your website.
In this article, I am sharing with you the steps to register a domain name and purchase web hosting to get started in a few minutes with seekahost.app. Don't believe me? Then watch this short video to get an idea how quick and easy it is to set up a blog:
How Can You Make Money With Blogging?
Blogging has gained immense popularity in India over the years and nowadays, there are hundreds to thousands of regular bloggers to be found as our top 100 bloggers in India list shows. Along with their blog, they utilize various online channels like YouTube, Instagram, Facebook, Twitter where they accumulate a massive following of thousands to millions. They thrive on various niches from lifestyle, beauty, fashion, travel, food, tech reviews, gaming, you name it!
Many become digital entrepreneurs with their blogs, earning an income via their internet platforms and are able to lead the digital nomad lifestyle.
If you want to make money with blogging, then you need to start with a self-hosted blog. A self-hosted blog requires a domain name and web hosting as well as a CMS like WordPress. You can see how quickly you can set up a blog in just a few minutes with the SeekaPanel here:
Register your domain in under 1 minute:
Host your domain in 4 minutes:
There are free blogging platforms like Blogger, Medium, etc. But these platforms are not ideal for making money as the user options are limited based on their guidelines. Such free blogging platforms are mainly used to share your blogger content on additional platforms with a wider reach to attract a bigger audience back to your personal blog. So, you don't directly make money with what is also known as microblogging.
A self-hosted blog gives you the freedom to write and make money in any way you want, plus you are the outright owner of this virtual property when the domain is registered in your name.
But how do you actually earn from your blog?
Most lucrative Ways to make money Blogging
There are several ways you can begin to generate an income from your blog. But here we list the most lucrative ones and how to get the highest return with a successful blog.
1. Affiliate Marketing: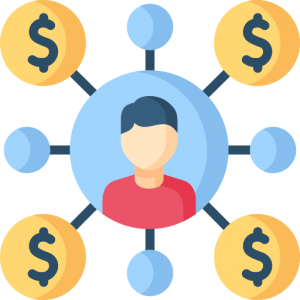 Affiliate marketing is an avenue you can consider for almost any niche blog. Affiliate marketing is the process of earning a commission by promoting and selling others products. Nowadays all companies and brands use influencers and bloggers to promote their products and they pay handsome commissions of anything between 8% to 20% on sales made, which you can check in your affiliate account with each company.
Say in your blog post you compare different products in your niche, you can work with several companies and highlight their pros and cons together with your affiliate links. And you can share special offers for your community via your affiliate link.
There are two types of affiliate marketing:
Affiliate Marketing for Information Products: This is best suited for beginners and the competition is comparatively low, depending on your niche. You would market products like eBooks, videos, courses or a number of membership sites. The commission can be up to 50% of the sales and moreover, you can easily find the products and promote the same.
Affiliate Marketing with a Brand Partnership: As an affiliate partner with Amazon for example you will be able to make a good profit if you use the codes well on your blog. You can choose the products of your choice, which can range widely through the biggest online retailer. This in turn helps you scale your commissions and earn more over time.
2. E-Commerce: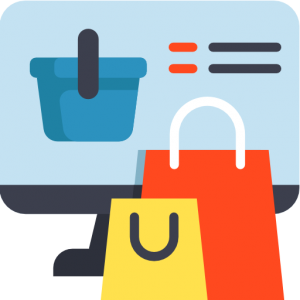 You can add an E-Commerce store to your WordPress website and sell your own products and earn money. There are several guides available online to start with an online Ecommerce store.
You can use platforms like WooCommerce, Magneto, 3dcart, and various others that can be integrated with WP plugins. To implement this one should have a clear and prior knowledge of Promoting their products and deal with an E-commerce store.
3. Dropshipping:

Dropshipping is an option for your website, if you plan on selling products you advertise or blog about directly. You don't need to own or store the physical products you sell as they're stored in a warehouse. It would be the best choice for a business that does not require any pre-investment. All you need is to create your online store via your blog and manage the marketing. Even if people buy from your store you will be charged only after the order has been completed. Start your dropshipping business via your blog with these basic guidelines to succeed.
4. Vlogging: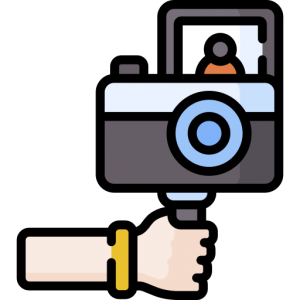 You may blog about a subject that you can also share videos about, whether it's tutorials or experiences. Vlogging is all about reaching your audience through video content rather than written content via blogging. All you need is good equipment for recording or shooting videos and starting a Vlogging channel.
There are various platforms like YouTube, Vimeo, etc. where you can reach more people, gain more followers and increase your income. You can also earn by recording product or service reviews as an affiliate and promote your partner brands or sponsors through your affiliate link.
5. Freelancing: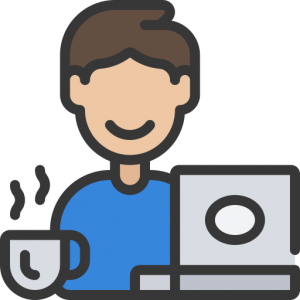 As a blogger, you are already a kind of freelancer, but you can combine your blog with freelancing services you can offer. No matter what you are skilled in and what you blog about, surely you can also offer it as a service or online product such as photography, writing, videography, music as a product or course, and various other options.
Turn your passion into money by offering freelancing jobs online. Make a note, if you are a beginner then keep your pricing low or even sometimes work for free to get better testimonials and extend your portfolio.
6. Online consultancy: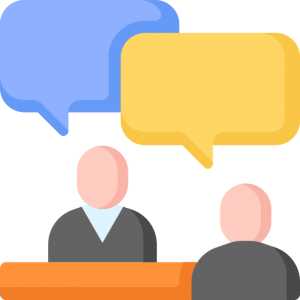 If you have enormous knowledge and experience in a specific area, then you can start your online consultancy business where you offer expert guidance and advice for a fee. You could portray yourself as a coach in your field and popular avenues are business or life coaching.
There are numerous online consultancies already available, which you can google to get an idea. However, don't let that concern you as you can offer your own unique consultancy services that are tailored to your blog audience for example.
7. Social media services: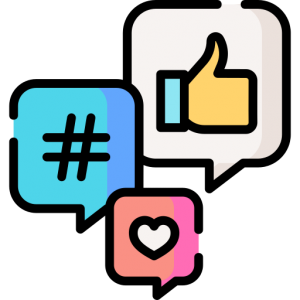 Social media offer a huge marketing platform for all types of businesses and many generate a high income from these. There are different ways of earning money using social media platforms. To give you an idea, check out these two:
Social Media Posts: On social media platforms like YouTube, Facebook, Instagram, and Twitter it's all about creating your own unique content constantly. If you are good at designing highly engaging posts that attract many likes and follows then you can sell this skill and earn from it. Or you can offer sponsored posts on your social media pages or groups to offer affiliate marketing for others.
Social Media Sales: you can sell products online via social media stores. Facebook offers page owners to sell their products or services via their FB store and you can also sell via the FB marketplace. With an Instagram business account, you can set up your own Instagram store too, which can be integrated into your blog. Many fashion bloggers do this nowadays.
8. Digital Product or Course: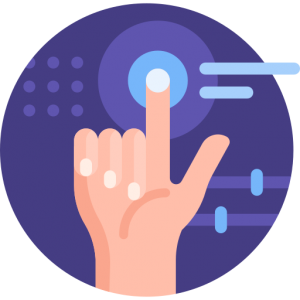 Nowadays all netizens are curious about the internet and everything has become digitized. You can start creating a course online and reach a bigger audience with your valuable content in a specific area you choose. The best way to start earning with a digital product is to self-publish a book on Amazon and produce video content that can be self-published on eLearning platforms like Udemy, Skillshare etc.
If you are proficient in digital marketing, then you have a good scope as that is a highly sought-after topic. You can also sell these products via your blog or your social media stores to establish yourself even more as an expert in your field or industry.
9. Buy & Sell Domains: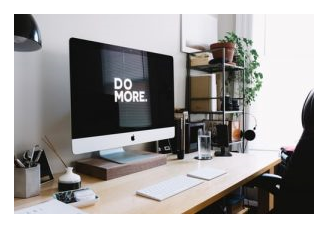 Buying and selling domains is becoming very popular and it is a great investment in digital assets. You can either rent out space on your blog against a fee for banner ad placements, guest posting etc. or you can grow your website to a level that many would pay a high price for, if it achieves a high domain authority and organic search traffic volume.
Companies such as Boughtbuffer.com are known in the industry of buying and selling domains and so-called domaining is becoming a lucrative online trading option in addition to crypto trading or NFT trading and other digital assets trading.
You can also buy expired domains and build them to become successful blogs that you can then again use for rental income or to sell at a far higher price.
10. Income through Ads: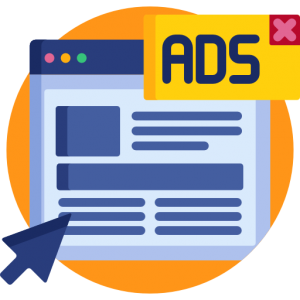 This type of business is well suited for experienced bloggers that attract a solid following and organic search traffic of a few thousand per month. To earn money by displaying Ads of others who wish to get featured on your site, you will need a website that is attractive for this purpose, offering good spaces for ad placements that are relevant to your audience.
There are different ad placement schemes like "Google Adsense" which is the most prominent source of paid ads placements that are easy to install in a website while being tracked in detail. With AdSense, you earn with a CPM model that pays you per 1000 impressions so the income generated from such ad schemes may be low, especially if your blog is still growing with just a few hundred or thousand visitors monthly.
It's therefore vital that you check the fine print of each scheme first before you use it. It may be more advisable to charge a monthly or annual fee to interested sponsors that want to get their ad featured on your blog.
With the most lucrative ways to make money with blogging listed here, you could make up to $1000 per month with your blog.
If you want to find out more about blog monetization strategies and methods then you can take the Blog for Profits course at the SeekaHost University, which is available also through the SeekaHost App. Or you can check out this make money blogging guide in more detail.
So, are you ready to earn big bucks in India?
Then let's get started with blogging in India!
1. Lay the Foundation: Choose The Perfect Domain Name
A domain name is the first thing that people will search for to visit your blog. Just like you have a name for a physical shop, you have a name for your blog online.
Choosing a domain name could sometimes be exhausting as you have to look for its availability.
A domain name's availability depends upon the name and extension or TLD you choose. If you choose a common or popular word, then you may not be able to purchase it as it could be taken already.
Here are some pro tips to choose the perfect domain name as the best starting point:
Combine two different words but remember, the name should have a single meaning.
Make it short, too long domain names would be difficult to remember for readers. Moreover, a long domain name results in typos and your website is less likely to be found.
Your domain name could be your personal name or a word that reflects your work.
First, choose a .com domain but if not available, then go for other TLDs like .net, .in, or more. When you search your domain name in the SeekaHost App, you will find all your options listed.
Buy domain names at low cost but also low-cost renewals. I am going to tell you how you can buy a cheap domain at SeekaHost.app
Register a Domain Name
Registering a domain name is the first step towards blogging. Once you register a domain, nobody can take that name unless you don't renew it.
At SeekaHost.app, you can buy a .com domain name for just $5.99 per year. If you reside in India, then this is the cheapest rate you can get for a year.
Steps to Register a domain name at SeekaHost.app:
Go to SeekaHost.app official website and enter the name in the search box.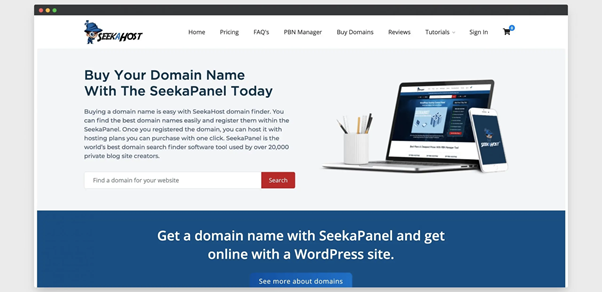 Click on search and the results will pop up. You can now continue with the domain registration if the domain name is available. Simply add it to the cart.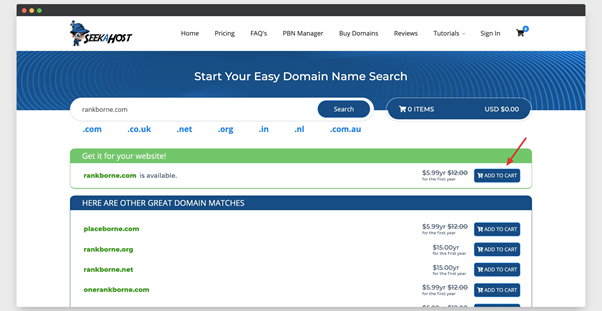 Now create a new account at SeekaHost.app and login to the SeekaHost.app domain and hosting manager.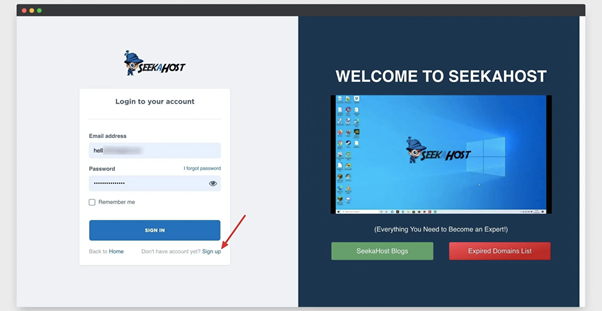 When you log into the domain manager, you will see the domain with its cost. Continue by filling in personal information. Also, you can choose additional features like privacy protection at an extra cost.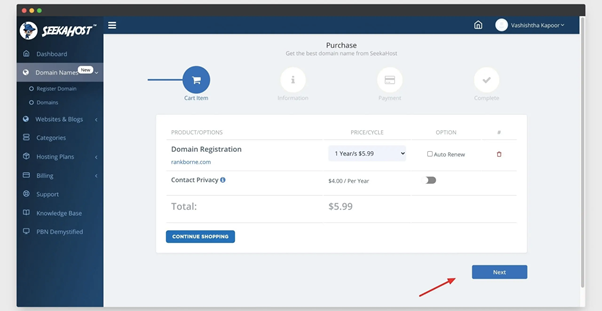 next…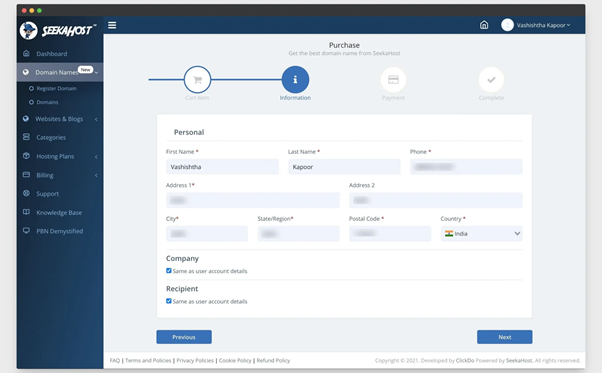 Finally, choose the preferred payment option and proceed with payment.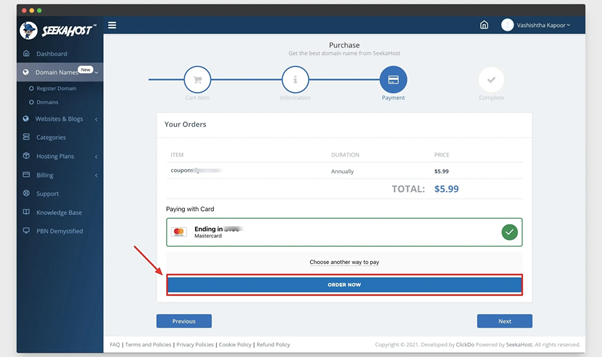 You have the domain name registered, the receipt of which will be sent to your email.
Now let's move on and see how to buy a hosting and link it to your domain.
2. Get Online: Purchase a Hosting Plan
The best thing about the SeekaHost.app manager is that you can manage both domains and hosting in the same dashboard.
With the same login, you can buy a hosting plan, no need to logout. You will need web hosting to make your domain live online. And as explained earlier, you need a CMS or website builder to design and manage it. If you go for the most popular CMS WordPress, then it is advisable to get WordPress hosting to give you the best hosting experience.
Steps to buying a hosting plan:
On the left side, you will see the hosting plans. Click to expand the hosting plans.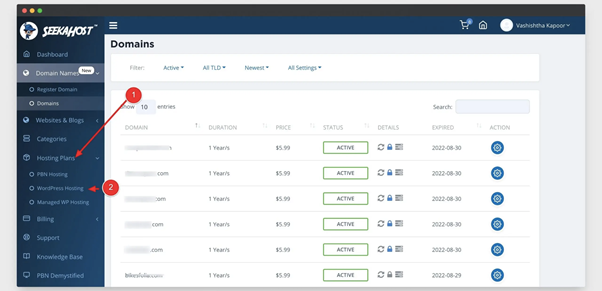 Choose WordPress hosting by clicking on it. There are four WordPress hosting plans. The Starter plan is $1.49 per month for a single website. Or you can choose the Standard plan at $5.5 per month.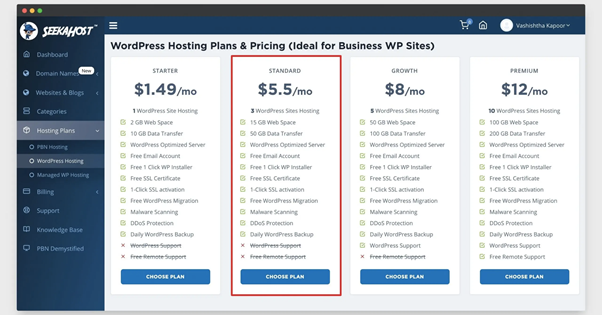 Choose any plan and proceed with the payment process. Once you have purchased the plan, you will see it in the WordPress & blogs section.
Now you can go ahead and do some settings to get your blog online.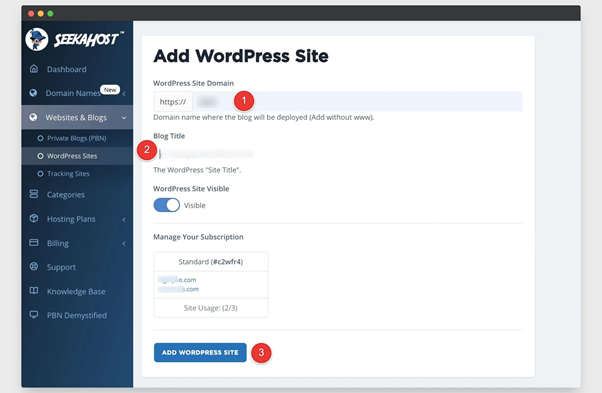 By now, you should know the steps to register a domain name and buy a hosting plan. Both of these can be done with the SeekaHost.app manager without logging out of the dashboard.
In the next step, I am going to show you some settings that are a must to get your blog online.
3. Get Set Right: Modifying NameServers and Activating SSL
You have the domain in your pocket, but you need to point to the nameservers of the domain correctly.
Changing the Nameservers: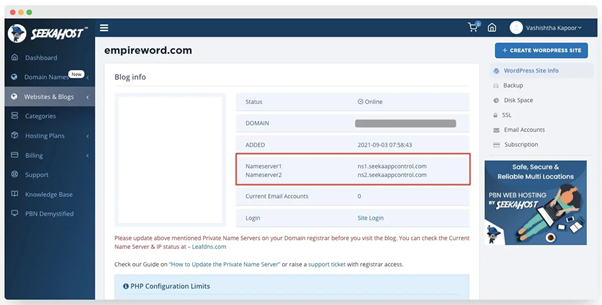 Firstly copy the nameservers seekaappcontrol.com and ns2.seekaappcontrol.com and go to domain settings.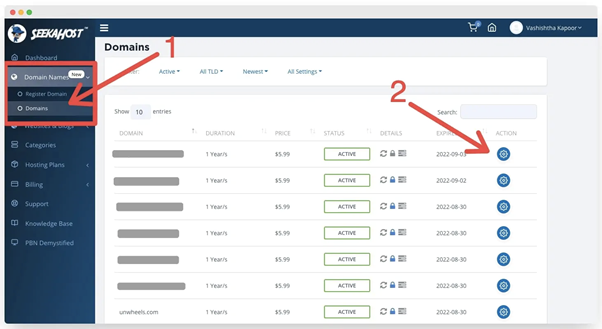 In the domain settings, you can find the nameservers option. Click on change nameservers and paste the above two ones. Save the settings and your domain will be pointed to SeekaHost WordPress hosting.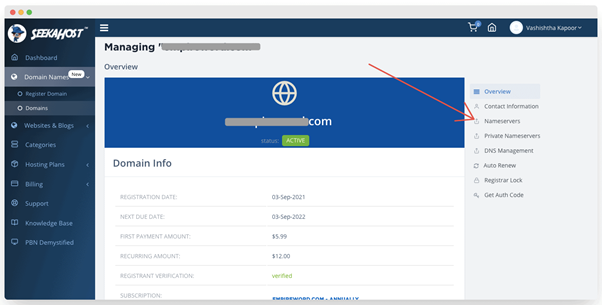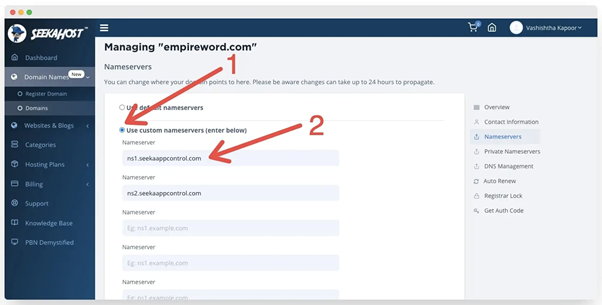 An SSL certificate is a must on your blog to secure customers information. You can activate SSL with one click.
Activating the SSL:
To activate the SSL, first, make sure you have pointed the nameservers correctly. I have already shown you the steps for that above.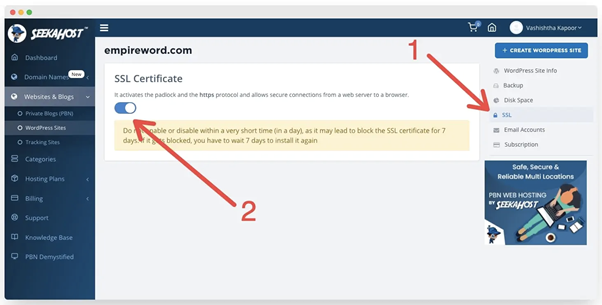 Go to the SSL option, and toggle the SSL button to activate it with one click. No code or any more settings are required. In a few minutes, SSL will get activated automatically.
4. Publish Content: Start your Blog with a First Post
So, you have the nameservers pointed correctly and also activated the SSL. You are now close to starting blogging with your first blog post.
But before you get started with your content, there are a few basic steps to follow with the setup of your WordPress blog.
You should ensure that the WordPress settings are all customized so they meet your requirements.
Go through this tutorial and follow the simple steps that apply for your blog:
Before you publish your first post, you should have a basic design set up with a WordPress theme.
You can watch this WordPress tutorial to see how it is done easily and quickly:
The theme ultimately depends on the type of blog you are creating, but I recommend Generatepress Pro which is a lightweight and fast WordPress theme. To activate the theme, go to Appearance > Themes > Add New. Choose the theme file and click on install. Then activate the theme.
To further personalise your blog with features you want to add, you may need to install some plugins that will support you with running a WordPress blog effectively.
I recommend plugins like Updraft for backups, LiteSpeed cache for performance, WPForms to collect leads, and All-in-One SEO for on-page SEO.
Check out this tutorial to understand better what plugins can be used for:
To finally publish your first post, go to Post > Add New, add the headline and content, which you should write and save in a Word document or Google Doc. Check the SEO score with the SEO plugin, and add a few media such as images or videos inside the post. You should also add a featured image, which you can design with graphic design software so that your readers know right away what your blog post is about.
Watch this blog post tutorial to get your first post on your blog right:
Finally, click on Publish, and your post is live and you're on your way to becoming a successful blogger!
For a full step by step tutorial to creating your WordPress blog from start to finish, look at this video tutorial so you don't miss a thing:
Set up a Blog in India with SeekaHost.app for the Best Start
You saw how easy it is to start a blog via the SeekaHost.app manager and WordPress. But all comes down to you creating a blog and starting blogging.
You can read more tutorials on the seekahost.app tutorials page or inside the knowledgebase. You can also head over to the SeekaHost YouTube channel for more tutorials. Whatever you do, don't delay to start your blog by registering your own cheap .com domain name or even a cheap .in domain. If you have any questions or need support with building your own self hosted blog, get in touch with SeekaHosters, however, I believe the ultimate WordPress tutorial for beginners to create a website with a blog, will help you do everything by yourself.
If you like this guide, then do share it with your friends or anyone looking to start a blog easily and affordably. This might help someone looking for a new job or the opportunity to start a personal blog to make money online as a beginner.
Enjoy blogging while earning money from writing, publishing, marketing and promoting the content of others as well as selling high-quality content on your blogs. Good luck with your blogging journey with seekahost.app!