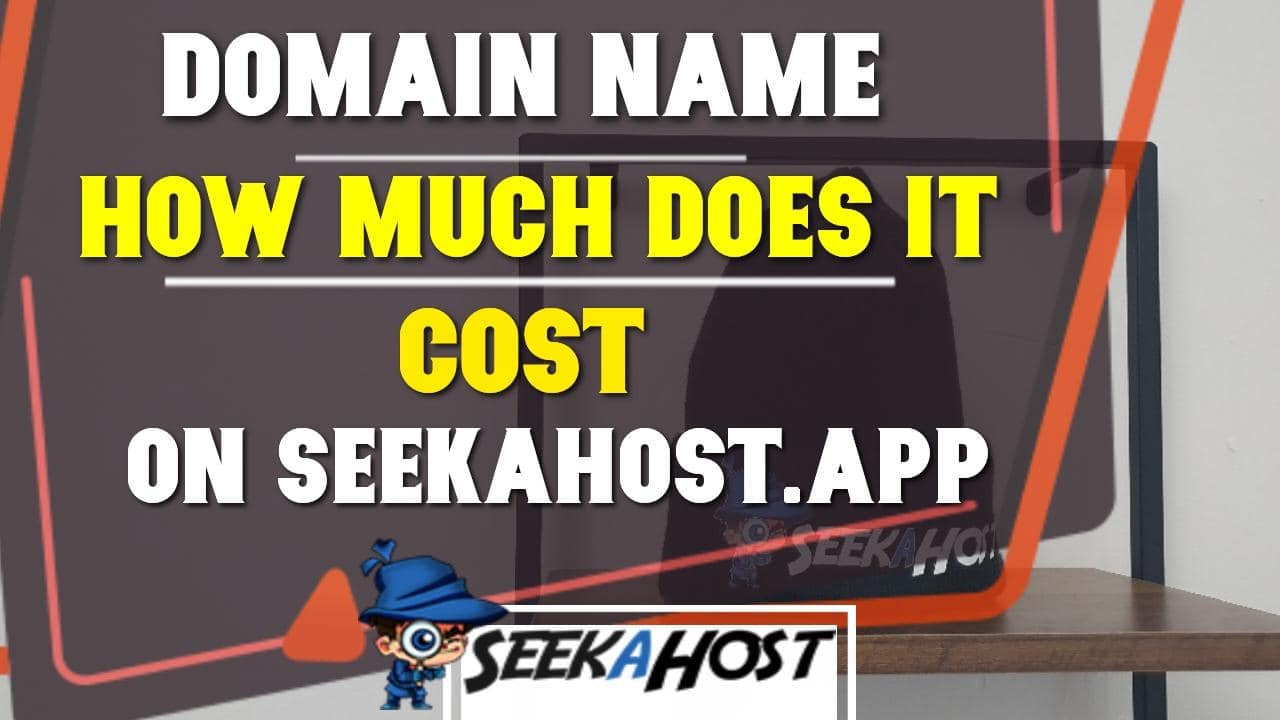 How much does it cost to buy a domain name on SeekaHost.app?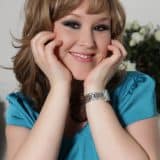 By Manuela Willbold | December 21, 2021
Looking for how much does it costs to buy a domain name and own it?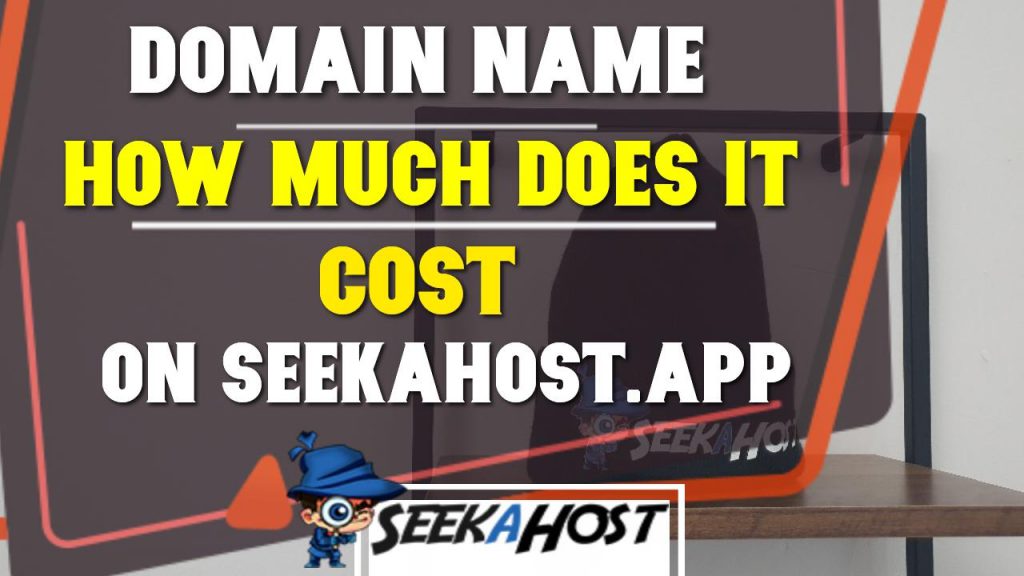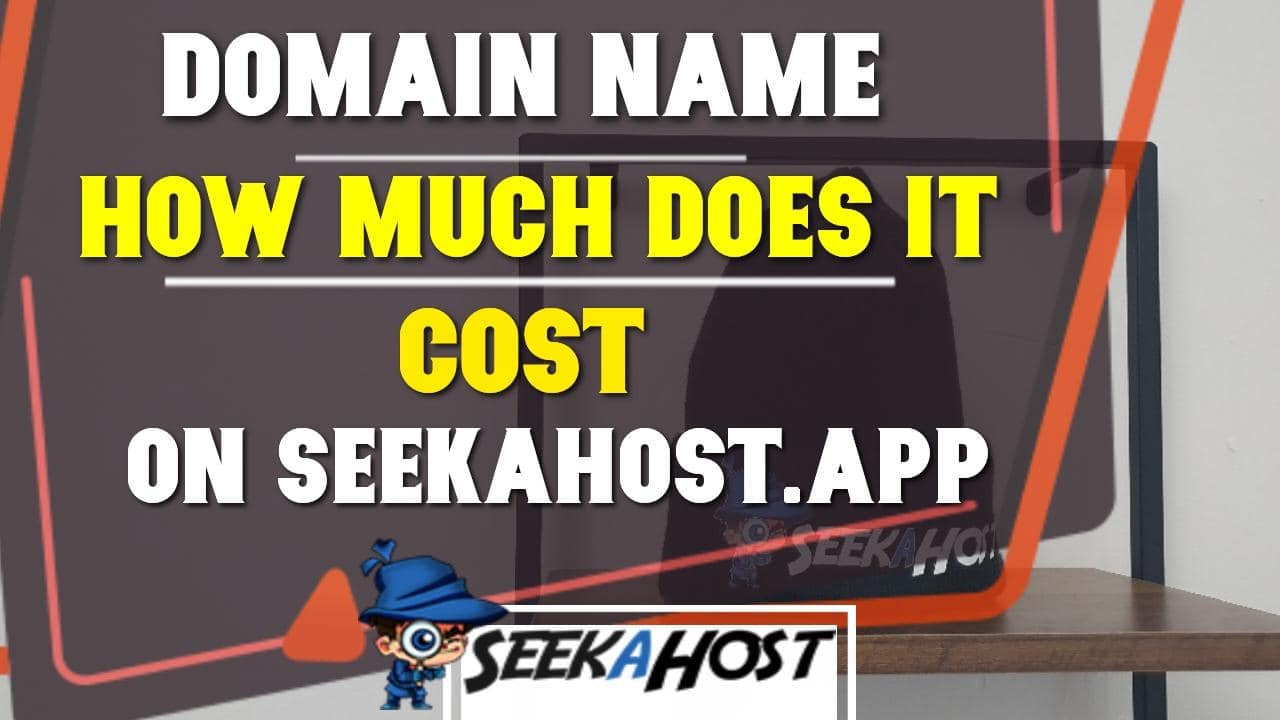 Then you should head to the SeekaHost.app, the world's cheapest domain registration services platform with the easiest and fastest system to buy your domains.
There are many sites you can get domains from and Namecheap certainly sounds cheap but is in fact not as cheap and easy to buy a domain as is seekahost.app.
We've built the seekahost.app domain registration system to provide the lowest prices compared to most registrars. You can get a .com domain name for $5.99 for the first year and if you are in the UK, you can get the cheapest price for a .co.uk domain for just £3.65.
As of now SeekaHost.app sells the cheapest .in domain names for Indian bloggers and start-up owners to get online with their chosen domain. The renewal prices are very competitive as well.
Recently we decided to sell .ca domain names for Canadians who are looking to buy cheap domains for their businesses.
There are several TLDs that are on offer right now and you can head over to the buy domains names page or to the domain name search page to check for the lowest prices.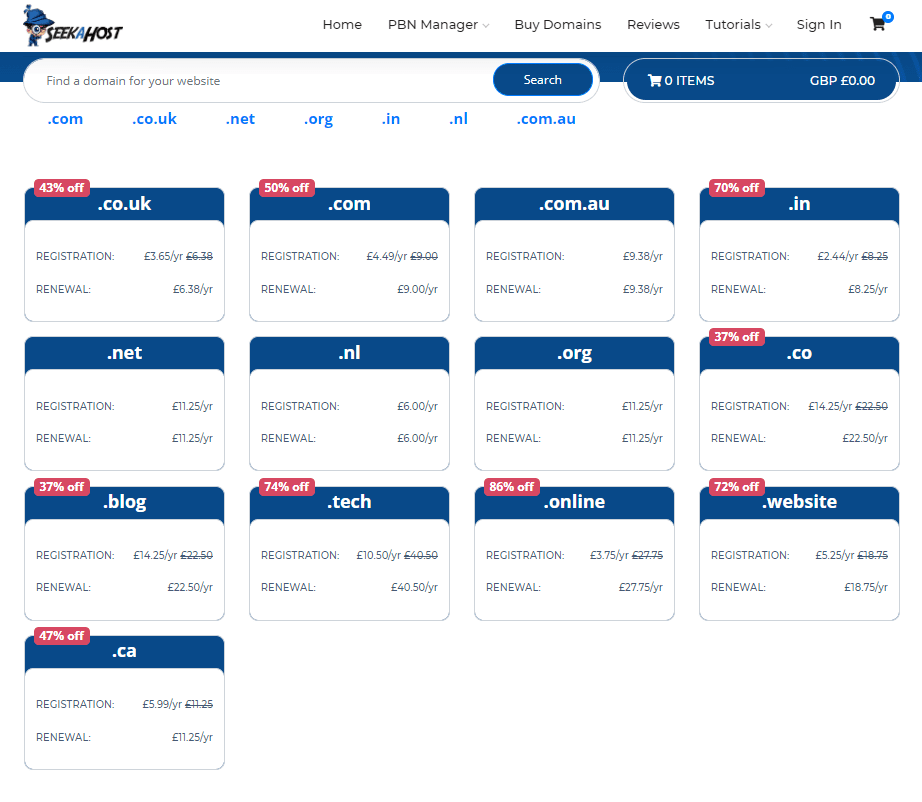 How much does a domain name cost that I want?
Depending on where you or your business are based, you may want to get a country-code TLD, e.g., if you live and work in the UK you would look for a .co.uk domain name.
At SeekaHost we constantly compare our domain prices to ensure that we offer the most competitive domain name costs and ccTLDs worldwide for an international audience.
That is why you find a cheap .in domain registration costing just £2.44 per year in the first year of domain registration for Indian customers.
And a cheap .ca domain can be purchased at just £5.99 per year if you're based in Canada.
For our UK customers, we offer the lowest domain name registration cost at £3.65 per year for a .co.uk domain.
If you're looking for a more general website that is not based on local business operations, you might be interested in buying a low-cost domain name with a different TLD and one of the most popular ones is the .com domain on offer for just £4.49. The dot com domain is obviously one of the oldest and most trusted domains, hence why it is extremely popular and expensive with other registrars.
The dot com domain is predominantly recommended for commercial websites. However, if you're an organisation you can opt for an .org domain name or if your website is about general content, the .net domain name may also be beneficial. In case your ideal domain name is not available with the .com extension, then the .org or .net extension are prominent alternatives, despite possibly being slightly more expensive.
How can I buy a good domain name easily and cheaply?
Once you have chosen your ideal domain name via the domain search at SeekaHost.app, you can follow the below steps to secure a domain that costs close to nothing:
Search for your preferred domain at https://www.seekahost.app/domain-name-search/
Choose the desired domain name you need with your preferred TLD or ccTLD.
Sign up to SeekaPanel at https://portal.seekahost.app/.
Add your chosen domain(s) to the cart.
Enter your details for the domain name registration. For certain ccTLDs you may be required to provide proof of residency so please ensure you have the necessary information.
Proceed to payments and select payment type.
Purchase your domain name(s) with one click.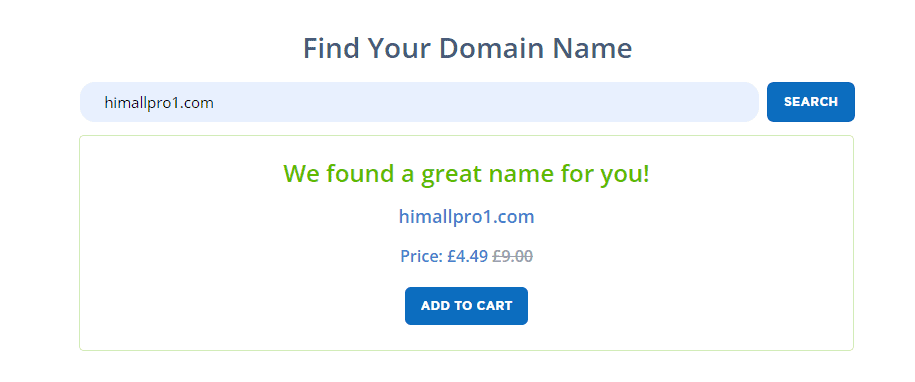 You have seen our incredibly low prices for domain names already, but before you rush into purchasing any domain name, make sure to consider the following points, which are important for the branding in the future:
Ensure that the structure of your domain name is easy to remember and spell. A domain normally has a prefix (https), a subdomain (www), the main name (website), and an extension (.com, .org., .net) and it should not contain lots of symbols, but mainly letters.
For your main domain name, you should consider a name that is short and memorable like big famous brand names such as Apple, Google etc.
If your brand name is not a fictional word, it should contain relevant keywords in the domain name. You can research keywords with Google's keyword planner for example.
Think carefully about the extension of your website. Determining factors are location, purpose/function, and type of business. With SeekaHost.app you can choose from many different extensions at the lowest price.
The final step on your journey to the cheapest domain name purchase with SeekaHost.app is to determine the domain registration period of your domain as this impacts the cost.
Consider the following points:
The first-year registration is the cheapest in terms of domain name cost as SeekaHost have reduced most extensions as you can see on the domain search page. Get a .com domain for just £4.49, a .co.uk for just £3.65 or a .in for a mere £2.44.
Bear in mind that after one year your domain can expire if you don't renew it. You will receive a notification from SeekaHost near to the expiry date with the option to renew it. However, if you miss doing this, you can lose your domain and website, which can be extremely frustrating after all the work and money you have invested.
SeekaHost offers domain registration periods over one year at a low rate and if you are certain that you'd like to keep this domain and grow that website, then the 2-, 3- or 4-year registration may be for you. You can easily work out the domain name cost inside the SeekaHost.app portal when you purchase your domain. In your basket, you can choose the domain registration period and you will see the overall cost: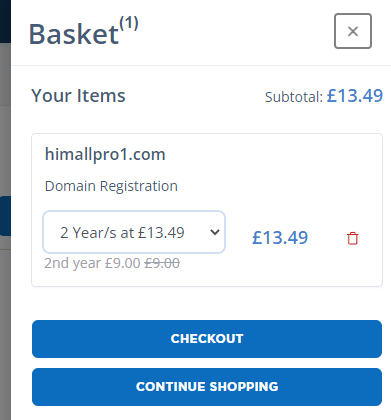 In the drop-down menu you will see the prices for each domain registration period that SeekaHost offers: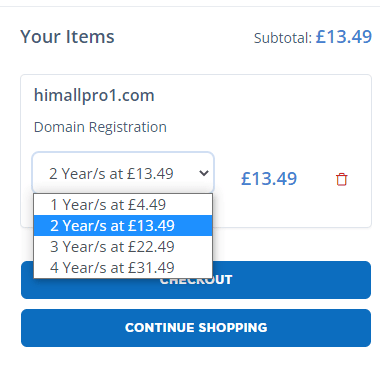 As you can see the price increases with every year, with the first year being the cheapest. The advantage of purchasing a longer domain registration period is a guarantee that for this period the domain is yours and nobody can purchase it.
You may want to only get a one- or two-year registration period, if you are uncertain about how long you want to run and own this website.
Currently you can buy domain names for a registration period of 4 years via the seekahost.app and if you want for a longer period such as 5 years, you can register your domains at www.seekahost.com.
Why choose SeekaHost for the lowest domain name cost?
You can compare the domain name prices we have listed here with other registrars in your country or worldwide. You won't find many that can compete with our extremely competitive domain name pricing and renewal cost.
·  SeekaHost offers the cheapest domain name costs:
SeekaHost.app offers a .com domain for $5.99 per year.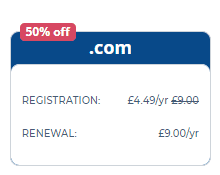 In comparison, registrar Namecheap offers a .com domain for $7.98 per year: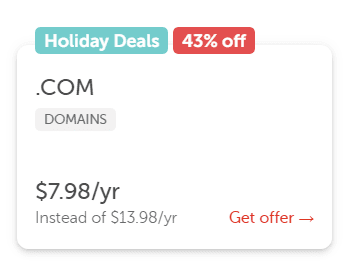 And registrar Cheap Domain offers a .com domain for $9.99 per year:

· Finding a domain is fast & easy
Another advantage of registering with SeekaHost.app is that searching for a domain name is easy peasy with the SeekaHost domain finder tool. Simply enter your dream domain name, choose your preferred domain name option, register, and purchase it within the SeekaPanel with just a few clicks in under 4 minutes. Pick a hosting plan with one click and get your website up fast in one minute.
· SeekaHost offers many additional free features
If you're a fan of freebies, then you will love your SeekaPanel account. Besides providing you with the cheapest domain names and web hosting, you will have free access to the knowledgebase and SeekaHost University where you can find useful tutorials with regards to the control panel, blogging, WordPress, and digital marketing. And that's not all! You can also track your website's performance with free tracking tools inside the panel by simply integrating your Google Analytics or Clicky account.
Get online with your low-cost domain at SeekaHost
If you are new to domain names and web hosting, looking to start a personal website or blog, it is best to get a .com domain name, because it is the most trusted extension and has SEO benefits to achieve global rankings on search engines like Google.
If you're looking to start a Blogging business then the dot com domain name is best for commercial and e-commerce websites.
Whatever TLDs and domains you're after, you will find the best deal at SeekaHost.app and it is, therefore, the perfect starting point to launch your domain.
For any further questions you have regarding domain registration cost or options reach out to SeekaHosters and we will help you find and buy the most affordable domain names.