How to Create a Blog on WordPress step by step
Want to learn how to start a blog on WordPress? – This guide will show you the step by with the complete guide with video tutorials for better understanding. Starting a Blog on WordPress is a Good Initiative, and for many it could be complicated, however we have simplified it. Learning how to start a WordPress blog and make money is the most recommended one, and it helps to express your skills to the external world. Optimizing your Blog based on the ranking factors will help to boost traffic to your website.
There are various online resources on WordPress blog creation but non with SEO guides available over the web, and some of those guides were looking too technical, and it is hard for the beginners to understand the things.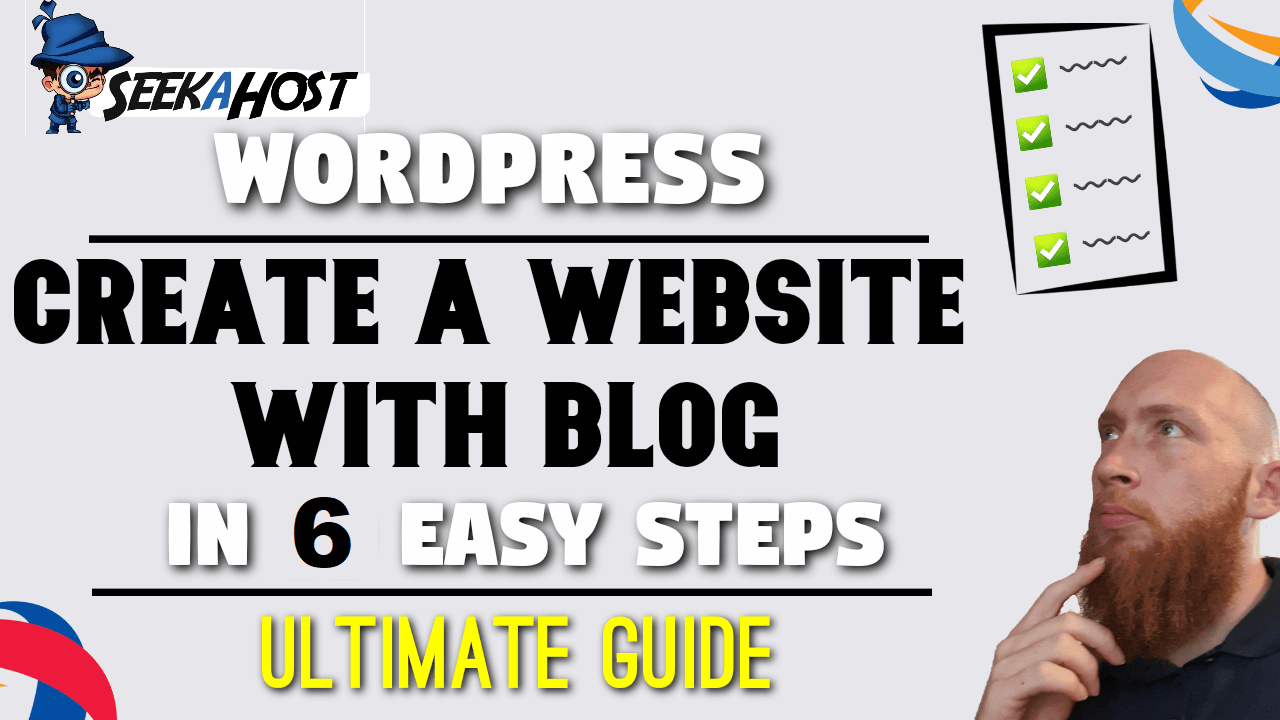 How to start a WordPress Blog?
Starting a Blog on WordPress is easier than you may think. Most of the guides on the web are complicated and written by affiliates who just want to promote hosting providers that pays the highest affiliate commissions.
So we have created this in depth guide to show each aspect of blogging and how to start, what to do about domain names, hosting and why WordPress is the best choice and how to get the best plans for the cheapest prices.
Below we have the 10 steps guide simplified in an easy-to-understand manner. Watch each video tutorial and follow the advice on creating your very first WordPress blog.
6 Steps to Create a WordPress Blog
Most of the Bloggers in the world and Expert bloggers prefer to use WordPress to start a blog because of its User-Friendly Interface and wide range of support articles. Below are the steps to start.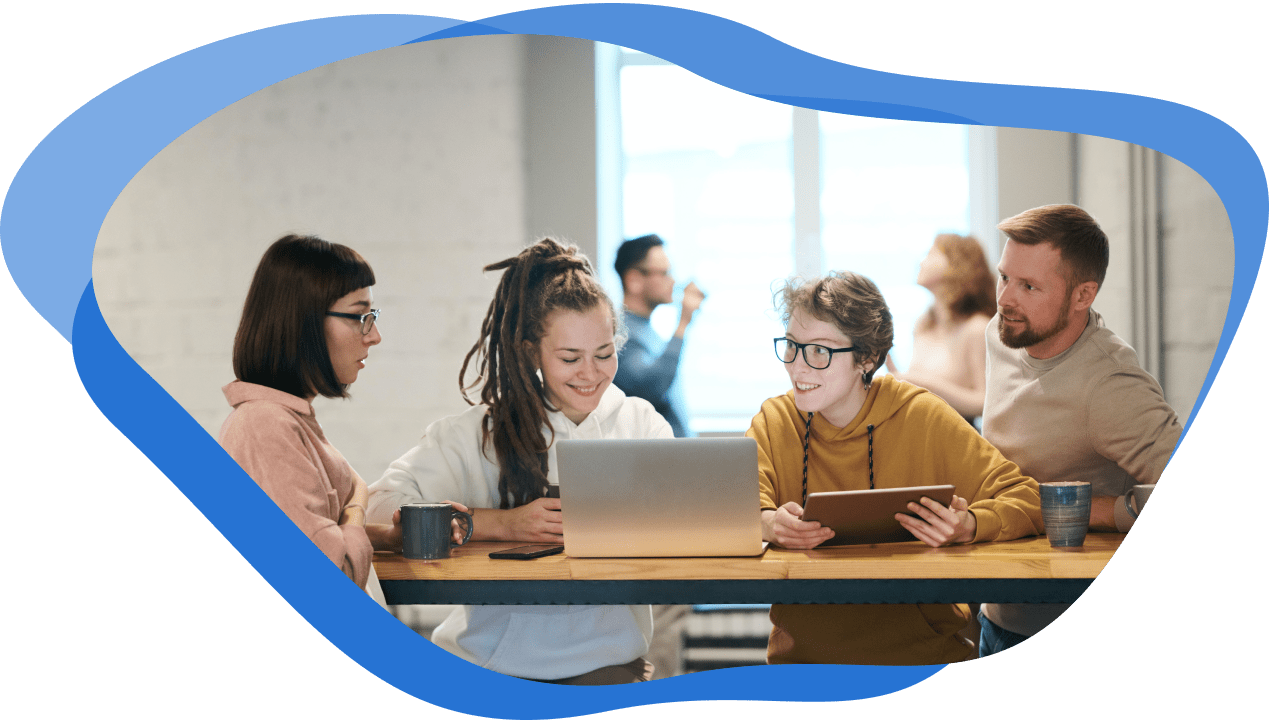 Creating Blog and generating more traffic through Organic Search Results is an essential one. Here I have explained each requirement in brief.
Step #1 Get Your Ideal Domain Name
Domain Name is nothing but your website URL. Each domain name will point to a particular IP Address.
As humans can't memorize the numbers as like as words, we have substituted the domain names over the IP Address. No two person can have the same domain name, and it must be 100% unique.
For example– I have my own domain "gowdhamsubramaniam.com" which is my name. So you can buy a domain name on your name or something you like.
It's very rare to find a domain name on our name and I wish you could do it soon before someone does.
Registering a Domain name is a simple process but deciding the domain name takes more time. We will have a lot of options and thoughts on our mind and that delays the process.
Enter the Domain Name to Check Availability Here:
Step #2 Get A WordPress Hosting Plan
If you have bought the domain name, then the next step is to buy the web hosting package and connect with your domain name. If you didn't purchase a domain name still, you can register it here.
As a beginner, you may not know about the term Web Hosting. You can read about Web Hosting in detail – What is Web Hosting?
When it comes to hosting you must be very conscious of your requirements. If you are a new blogger, then don't think that it's technical and it is all about your needs.
Below we have listed the important feature to be noticed while choosing web hosting and explained well about it. It will be useful to choose the hosting which satisfies all your requirements and make sure you pay for what you use.
Included In WordPress Hosting Control Panel
Step #3 Install WordPress & Configure it
Learn how to install WordPress and connect your WordPress hosting to your domain.
One of the most important reasons to recommend the beginners with WordPress is because it has easy to use interface and there are plenty of resources available online compared to other CMS.
So, if you got stuck somewhere, you can find a lot of guides over the Web to learn about it.
In this video we will show you how how quickly you can actually host a domain you have registered.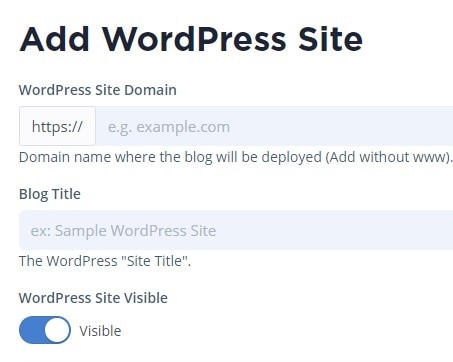 Overview on how to Install WordPress on SeekaHost using the SeekaPanel.
Log into your client area.
Choose you hosting plan.
Select WordPress Sites from the main menu.
Click on create WordPress Site.
Fill in the information and save it.
Enter the name servers into your domain hosting.
Once you create your WordPress site you will be given 2 sets of nameservers. To finally connect your Domain to your WordPress hosting you will need to insert these nameservers into your domains nameserver sections.
How to edit Nameservers to connect your WordPress hosting
Nameservers are what you use to connect your Domain hosting to your WordPress hosting. If you have got your domain with us it is automatically set up for you but if you have registered your domain else or need to use custom Nameservers, you can follow these easy steps to connect the domain to our hosting.
Log into your Domain hosting account.
Unlock your domain (if the hosting keeps it locked).
Find the Manage Nameservers option.
Select Use Custom Nameservers.
Insert the 2 name servers provided from the WordPress site you created.
Make sure to insert the top Nameserver first, the followed by the Nameserver underneath and save.
Adding or Removing Plugins
Plugins are useful tools for getting many added features to your blog.
You can create almost anything imaginable on a website, from easy form builders. Complete forum plugins. E commerce shops, membership profiles and so much more.
Along with this many needed plugins such as GDPR Cookie Consent and others can be added easily this way.
Install & Configure Security Plugins
When it comes to keeping your site secure. We will of course have features like a firewall and back ups but it is your responsibility to keep your site protected.
We use multiple ways such as using plugins to increase security and altering some configuration to make it much more difficult for anyone trying to gain access.
We recommend using a general security Plugin along with an anti malware plugin and such as WordFence.
Creating Forms With a Plugin
Creating forms on WordPress has been made really easy with the amount of free plugins you have to choose. Find a Plugin that works for you and create a form for customers to fill out.
Most form builders use a drag and drop form creator so it can take literally minutes to create your own personalised form.
How to Create Memberships with a Plugin
How to Create a Membership Site with WordPress for free using an easy to install plugin. Let your members sign in or out easily from your blog/site and create a profile.
This is helpful if you want top run a forum or have other authors sign in and post content for social sharing pages.
How to Create a Forum with a Plugin
Its never been easier to setup a Forum for all your viewers or subscribers to engage with each other over different subjects, you can make different categories and then subscribers can create topics, or comment on other topics that have been brought up.
We highly suggest using a membership plugin along side this to make logging in and out much easier. You can also have password reset pages or membership pages to help your subscribers.
Step #5 Building The WordPress Site
On-Page Optimization Factors
Search Results will not show your entire webpage. But to give some hints about your website and it's content, it will show you the title, Description, and URL of the particular web page.
Title Tag
In Wordpress, you can find Title option in top of every page or post. The title tag will be displayed in the Search Result Page for each webpage. It is very much important to mention it effectively for better results. It is recommended to make sure the keyword is present in the title tag of a webpage.
Description
It is the crispy content which can have a maximum of 160 characters in it. It says more about the content, and sometimes it will be fetched from the content of the webpage. The description text must have the keyword to make sure the content in a webpage is more relevant to the keyword that you have targeted.
URL Structure
Structure of the URL will also help a lot in Ranking your website. If your URL is user-friendly and if it has some relevant words then it will help the visitors and search engines to know more about the content.
Keyword Density
The percentage of keyword present in the particular webpage concerning a total number of words. It is recommended to use the synonyms and more LSI Keywords to rank the webpage for all relevant keywords.
Image & Alt Tag
Use more relevant pictures with proper Image Name and Alt tags. If suppose your image doesn't load correctly due to any technical issues, then by that time, the alt tag will be displayed for the users. It helps in ranking as well as a better understanding of the users as well.
Content
Content is the most important part of your SEO. The webpage will be optimized and ranked in the search engines mainly based on the contents present on a webpage. Quality content is more important than any other SEO Factors.
Step #6 On Page & Off Page SEO
On/Off page SEO (Search Engine Optimization) will help your blog grow much faster than waiting for the visitors to just arrive.
On page SEO can include adding helpful links, inserting Meta Data into photos, using keywords and researching articles to post.
Off page SEO can be things like links to your blog from other websites, social or forum sharing of your blog and other ways of advertising your blog from outside sources to help the search engines rank you due to your blog growing in popularity.
Adding Your Blog to Google Search Console
Connecting your WordPress blog to the google search console will allow it to be indexed much faster.
This means google will send its crawlers and inspect your page. Once checked they're much more likely to send visitors your way as you are indexed with that search engine. You can also do this with bing and other popular search engines.
Researching Keywords For Your Blog
Researching keywords is a very important part of creating a wordpress site and growing your blog.
By researching keywords and using them through out your article you can really increase visitors that are sent to your site from search engines.
Learn how to target the right audience and get our best 7 free methods of researching keywords form the video.
Adding Analytics to your WordPress site
Lets go through how to add Google and Clicky Analytics to our SeekaPanel on SeekaHost in this video you can see how to read site traffic and domain visitor data in SeekaPanel by connecting Google Analytics and Clicky Analytics.
This is one of the great features we include for free here at SeekaHost. You can connect your Google and Clicky account to our main dashboard meaning you can check analytics for your SeekaHost Dashboard before even login in to your sites.
Using Other Analytic Services
From your WordPress Dashboard go to plugins and then add new.
Use the search bar and search for Matomo Analytics.
Click Install, and after a few seconds click activate.
Configure Settings
Building Links With a Private Blog Network
A PBN is a number of blogs you hold in a network that independently link to your main money site. The reason for this is to pass down some of its domain authority. We do this by buying expired domains with some pre existing good backlinks that have already been ranked higher than a normal site due to its history.
A link provided by a site with more authority will give some of its authority over to the site it is linking to as long as it's a "dofollow" link. This is why PBN's are so popular as they can really help to grow your main site.
Moving/Migrating Your WordPress Blog
Migrating your entire website might seem tricky, but with a free Plugin. A good tutorial and guide and you can migrate you WordPress blog over quickly and easily to any other hosting package.
This is especially applicable if your current hosting service is over charging you and you want to move your site over to us. You can simply copy the entire site and move it over to our cheaper and much more reliable hosting.
Frequently Asked Questions
WordPress offers the best features as a free to use open-source blogging platform and is the most trusted and used content management system (CMS) worldwide, being used for over 35% of all websites live on the internet today. Understand WordPress as your stage to share your content, which you can customize through themes, plugins, and code. You will be required to get web hosting for any domain you purchase, or it won't be accessible online. And SeekaHost App provides both web hosting and domain registration. WordPress then helps you design and build your blog on your domain, providing specific features to optimize your site for SEO, e-commerce etc.
WordPress provides independence, freedom, and all the needed tools to write and optimize web content easily. Compared to other content publishing platforms it offers the best features and functions without having to pay the additional cost for added features. Because when you register a domain name with a web host like SeekaHost, you only pay for the web hosting and the domain is yours. But if you get your domain with other blogging platforms you may have to pay additional fees for their premium services and functions and if you do not pay your access to your site may be removed or restricted. Plus, SeekaHost App offers WordPress customer support as part of managed WordPress Hosting which saves you a lot of time with hosting and managing your website.
With the SeekaHost web hosting control panel, the SeekaPanel in the seekahost.app, you can get started with a WordPress blog by hosting an expired domain or registering and hosting a new domain with WordPress and get online in less than 4 minutes. To register a domain is equally fast, meaning that you can set up a WP website in under 10 minutes. The world's fastest WP hosting solution from SeekaHosters that gives you access to everything you need from the start.
Your domain name is basically your own virtual property or land. You register it in the name you want, which could be your own name for a personal blog or your brand name for a business blog. When you register it, you provide your personal information so that you own the domain after the purchase. For the selected time you have paid for the domain registration, it belongs to you and nobody else can purchase it.
Before you purchase any domain, you should understand what is important to consider for domain registrations. Bear in mind the following factors before buying your domain:
Review the structure of your domain name. A domain consists of a prefix (https), a subdomain (www), the main name (website), and an extension (.com, .org., .net). Ensure it sounds and looks good.
The ideal domain name is short, easy to spell and memorable like "Google".
Try to include keywords in your brand and domain name to rank it better on search engines.
Avoid adding unusual symbols or hyphens as difficult to remember/spell domain names are less likely to be searched on search engines.
Think carefully about the extension of your domain name by determining factors such as location, purpose/function, and type of business.
Once you find and purchase the domain name of your choice, you can easily use the 1-Click WordPress installer to host it and get online fast with seekahost.app.
A self-hosted WordPress blog is a website for which you can buy your own domain name and hosting to set up your own blogging site. You can install your own CMS (Content Management System) on your domain, and you have your own control panel provided by SeekaHost called the SeekaPanel. You own your domain and pay annually for its registration and to make it accessible on the internet you pay for a hosting plan, which you can find inside the SeekaPanel.
There are endless advantages to blogging such as building your own virtual property as a digital asset, creating an online portfolio for career progression or business opportunities, establishing yourself as an expert or influencer while earning through sponsorships or ad placements on your blog, making money as an affiliate blogger or simply running an e-shop. Whatever you want to achieve with a blog, you can with hard work and effort.
Yes! Successful bloggers that attract a good number of readers regularly can monetize their blog through affiliate marketing, sponsorships and endorsements, influencer marketing, ad placements on their blog or offering services and products via their blog. You can read our guide for more information.
SeekaHost provides you with very affordable domain registration and web hosting services including free digital marketing education via SeekaHost University. You can access the courses for free via the SeekaHost control panel and learn SEO, digital marketing and blogging in your own time. The SeekaPanel also features analytics tools to monitor the performance of your WordPress Blogs hosted with SeekaHost and you can opt for managed WordPress Hosting, if you want a hassle-free WordPress blog experience.